Pay Using Mobikwik Wallet & Get Cashback Upto 100/- (Min order @399/-)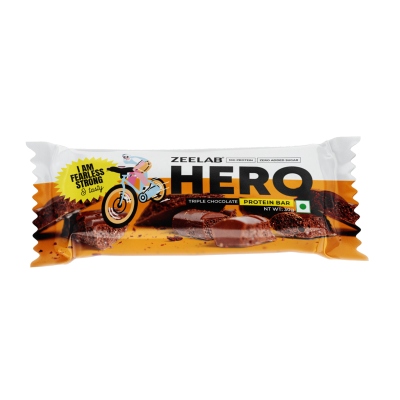 Hero Protein Bar 1 Pc
₹ 80
19% off
₹ 65 ( Inclusive of all Taxes )
packet of 1 bar
Promotion & Offers
✔ Month End Sale with Upto 12% Off. T&C Apply.
✔ Pay Using Mobikwik wallet & Get Cashback Upto 100/- (Min order @399/-)
✔ Just Place Your Order on a Single Call @ 9896112555
MANUFACTURER/ MARKETER:
Zeelab Pharmacy Pvt Ltd.
COMPOSITION:
Protein 10 g, Total Carbs 12.3 g, Total Sugar 1 g, Added Sugar 0 g, Fiber 1.6 g, Total Fat 3.2 g, Saturated Fat 1.4 g, Trans Fat 0 g, Sodium 61 mg, Energy 119 kcal. Ingredients: Protein Blend (Whey Protein Concentrate , Milk Protein Concentrate, Calcium Caseinate), Humectants (INS 422), Dark Compound (15%) [Maltitol (INS 965 (i)), Edible Vegetable Fat, Cocoa Solids, Emulsifier (INS 322 (i))], Sweetener (INS 965 (ii)), Fructooligosachharide, Cocoa Powder, Cocoa Butter, Nature Identical Flavoring Substances, Emulsifier (INS 322(i)), Rosemary Extract.
DESCRIPTION:
Recent Reviews
Showing 1-5 out of 1
Verified Buyer
Rupinder Singh on Jul 05, 2023
Good Product
Taste is not sweet as there is no added sugars but Energy is good.