Pay Using Mobikwik Wallet & Get Cashback Upto 100/- (Min order @399/-)
NatureXprt Narivin Syrup | Ayurvedic Health Tonic for Women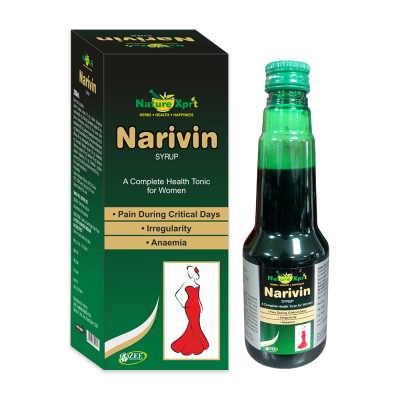 NatureXprt Narivin Syrup | Ayurvedic Health Tonic for Women
Therapeutic Category
Health Tonic for Women
₹ 120 ( Inclusive of all Taxes )
225 ml Bottle
Promotion & Offers
✔ Month End Savings | Upto 13% OFF
✔ Pay Using Mobikwik wallet & Get Cashback Upto 100/- (Min order @399/-)
✔ Just Place Your Order on a Single Call @ 9896112555
MANUFACTURER/ MARKETER:
Zeelab Pharmacy Pvt Ltd.
COMPOSITION:
Ashok (Saraca Asoca) 75mg, Lodhra (Symplocos Racemosa) 35mg, Patranga (Caesalpinia Sappan) 30mg, Sariva (Hemidesmus Indicus) 35mg, Kumari (Aloe Barbadensis) 65mg, Shatavari (Asparagus Racemosus) 30mg, Bala (Sida Cordifolia) 60mg, Punarnava (Boerhavia Diffusa) 45mg, Ashwagandha (Withania Somnifera) 40mg, Daru Haldi (Berberis Lycium) 35mg, Ulatkambal (Abroma Augusta) 65mg, Dashmool 40 mg, Mochras (Salmalia Malabarica) 30mg, Chandrasur (Lepidium Sativum) 60mg, Bol (Commiphora Myrrha) 30mg
DESCRIPTION:
Recent Reviews
No reviews yet! Be the first to leave a review.