Zeelab Lite Protein Powder with Zero Sugar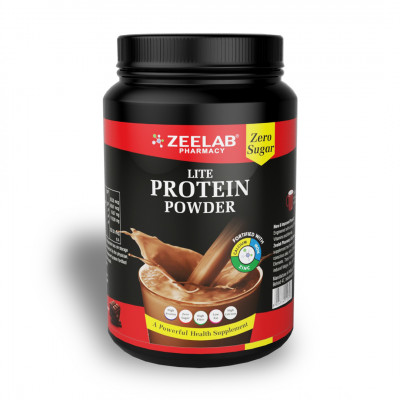 Zeelab Lite Protein Powder with Zero Sugar
Therapeutic Category
Nutritional Supplement
₹ 240 ( Inclusive of all Taxes )
500 gm Powder
Promotion & Offers
✔ Pay Online & Get Free Shipping
✔ More Than 90% Savings | Use Code: GET90
✔ Just Place Your Order on a Single Call @ 9896112555
COMPOSITION:
Protein Hyrdolysate 10% 16.67gm, Dibasic Calcium Phosphate providing Calcium 750mg, Phosphorous 580mg, Pyridoxine Hydrochloride 1.67mg, Cyanocobalamin 3.33 mcg, Vitamin D3 333.33 IU, Niacinamide 50mg, Calcium Pantothenate 16.67mg, Folic Acid 1mg, Zinc Sulphate Monohydrate 1.67mg, Ferric Ammonium Citrate 25mg, Manganese Sulphate 5mcg, Magnesium Oxide 13.33mg, Anhydrous Copper Sulphate 8.33mg, Chromium Chloride 83.33mcg, Selenium Dioxide Monohydrate 66.67mcg, Potassium Chloride 16.67mg, Sodium Chloride 110mg, Potassium Iodide 333.33mcg
DESCRIPTION:
Recent Reviews
Showing 1-5 out of 4
Fulfill daily protein needs
Nikhil Arora on Jun 10, 2021
This protein powder is perfect for those who are in diet. Taste is good considering it is a health product and overall a great product i would recommend to others.
Improved athletic performance or endurance
Sahil on May 28, 2021
It is definitely great when you are hungry on a diet, or a good substitute when you are travelling and want to stick to your diet. I recommend this product. Also, I have a good personal experience with this.
Very high ENERGETIC
RAJESH on Sep 04, 2021
Realy. ***** 5 star You can buy without any ....
Amazing Product
Vivek on May 24, 2021
I have already used many products like this but i found it much effective and pure than others. Truly a amazing product.