Pay Using Mobikwik Wallet & Get Cashback Upto 100/- (Min order @399/-)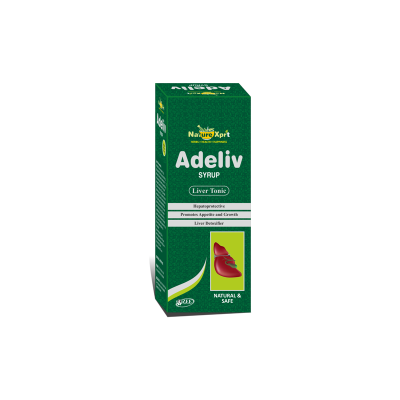 NatureXprt Adeliv Syrup
Therapeutic Category
Heptaoprotective
₹ 149 ( Inclusive of all Taxes )
300 ml Liquid Orals
Promotion & Offers
✔ Month End Sale with Upto 12% Off. T&C Apply.
✔ Pay Using Mobikwik wallet & Get Cashback Upto 100/- (Min order @399/-)
✔ Just Place Your Order on a Single Call @ 9896112555
MANUFACTURER/ MARKETER:
Zeelab Pharmacy Pvt Ltd.
COMPOSITION:
Rohitak (Tecomella Undulata) 70mg, Sharpunkha (Tephrosia Purpurea) 90mg, Kalmegh (Andrographis Paniculata) 75mg, Apamarg (Achyranthes Aspera) 80mg, Aragvadha (Cassia Fistula) 40mg, Kasni (Cichorium Intybus) 120mg, Daruhaldi (Berberis Lycium) 70mg, Haridra (Curcuma Longa) 60mg, Harar (Terminalia Chebula) 70mg, Bhringraj (Eclipta Alba) 90mg, Kutki (Picrorhiza Kurroa) 90mg, Kumari (Aloe Vera) 60mg, Giloy (Tinospora Cordifolia) 65mg, Yavakshar 40mg, Sudh Nausadar (Ammonium Chloride) 25mg, Shudh Shilajit (Asphaltum) 10mg
DESCRIPTION:
Recent Reviews
No reviews yet! Be the first to leave a review.