Pay Using Mobikwik wallet & Get Cashback Upto 100/- (Min order @399/-)
Vitazem 5G Softgel Capsule with Omega-3 Fatty Acid and Antioxidants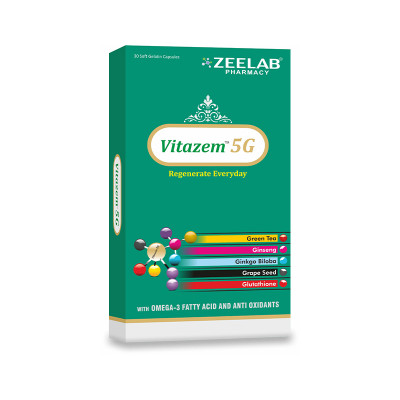 Vitazem 5G Softgel Capsule with Omega-3 Fatty Acid and Antioxidants
Therapeutic Category
Nutritional Supplement
₹ 195 ( Inclusive of all Taxes )
15 Capsules per strip
Promotion & Offers
✔ Flash sale upto 12% Off | CODE: ZEE12
✔ Pay Using Mobikwik wallet & Get Cashback Upto 100/- (Min order @399/-)
✔ Just Place Your Order on a Single Call @ 9896112555
MANUFACTURER/ MARKETER:
Zeelab Pharmacy Pvt Ltd.
COMPOSITION:
Each Soft Gelatin Capsule Contains: Omega-3 Fatty Acids Providing Eicosapentaenoic Acid (EPA) 90mg, Docosahexaenoic Acid (DHA) 60mg, Green Tea Extract 10mg, Ginseng 42.50mg, Ginkgo Biloba Extracts 10mg, Grape Seed Extracts 15mg, Glutathione 10mg, Lactic Acid Bacillus 500 Lacs Spores, Citrus Bioflavonoids 20mg, Natural Mixed Carotenoids (10% 11.33mg, Vitamin D3 200 IU, Wheat Germ Oil 25mg, Vitamin K1 (Phytonamidione) 10mcg, Vitamin B6 1mg, Vitamin B12 1mcg, Thiamine 1.4mg, Niacinamide 18mg, Ascorbic Acid 40mcg, Folic Acid 120mcg, Folic Acid 30mcg, Choline Hydrogen Tartrate 25mg, Lutein (10%) 250mcg, Piperine 5mg, Dibasic Calcium Phosphate eq. to Elemental Calcium 20mg, Dibasic Calcium Phosphate eq. to Elemental Phosphorous 15.45mg, Ferrous Fumarate Eq. to Elemental Iron 10mg, Zinc Oxide eq. to Elemental Zinc 12mg, Potassium Iodide eq. to Elemental Iodine 120mcg, Magnesium Oxide eq. to Elemental Magnesium 30mg, Manganese Sulphate eq. to Elemental Manganese 1.5mg, Copper Sulphate Pentahydrate eq. to Elemental Copper 0.5mg, Chromium Picolinate eq. to Elemental Chromium 50mcg, Sodium Molybdate eq. to Elemental Molybdenum 25mcg, Sodium Selenite eq. to Elemental Selenium 20mcg, Potassium Chloride eq. to Elemental Potassium 4mg, Potassium Chloride eq. to Elemental Chloride 3.6mg
DESCRIPTION:
Recent Reviews
No reviews yet! Be the first to leave a review.